Our History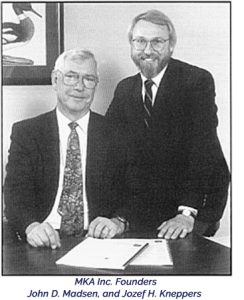 MKA International, Inc's. (MKA) roots date back more than three decades when founders John D. Madsen, and Jozef H. Kneppers developed what ended up being one of the first multi-disciplinary Construction and Engineering consulting firms. Mr. Kneppers' start came from the $250 million catastrophic fire loss at the MGM in Las Vegas, Nevada back in 1981. At the same time, Mr. Madsen was the lead Construction Dispute Expert on the Galtier Plaza in Minneapolis, Minnesota that involved $150 million in construction-related claims.
Both Mr. Madsen and Mr. Kneppers were previously engaged in other consulting companies. Mr. Kneppers worked mostly in California and Mr. Madsen was primarily located in the Midwest. Their partnership was based on their complementary experience, education, and their areas of practice. As a Construction Cost Estimator, Mr. Kneppers primarily focused on Property Loss assignments and Construction Defect Litigation. Mr. Madsen was involved in Construction Management with the Heavy/Civil Construction aspects; his areas of practice were primarily Construction Dispute Resolution and Contract Management. Soon after the two founded MKA, they added Engineering to their scope of services.
By the time Mr. Madsen retired, MKA had already grown to 4 offices with some 50 employees. While deciding on the additions to the Board, Mr. Kneppers looked inward and selected six partners from MKA's Senior Consultants: Trevor A. Crossley, William M. Kreidler, Patrick G. Cumine, Sidney J. Friedman, Chris J. Kneppers and John C. R. Hastie. These individuals formed the nucleus of the company. As Principals, they were responsible for the growth of a company that began as a single, 15-employee office and transformed into a 300-employee, 25-location business spanning 10 professional disciplines. MKA now operates in most major metropolitan cities throughout the United States, servicing every inch of the country. The core group has remained strong for the past 35 years, paving the way for the creation of an Employee Stock Ownership Plan (ESOP). The company's culture is founded on "Growth from Within", a reputation that has been developed from personal relationships with MKA's Clients.
Over the years, MKA has provided unparalleled services both Domestically and Internationally to serve a diverse group of Clients including Property Owners and the Insurance, Construction and Legal industries.