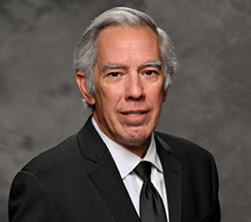 David A. Corona
Executive Manager
Contact
Offices: Phoenix, San Diego
18301 Von Karman Avenue, Suite 750
Irvine, CA 92612
30-plus years of Construction experience related to Loss Reconstruction and Restoration. Mr. Corona is an Executive Manager at MKA International, Inc. (MKA), and specializes in cost assessment and remediation cost auditing/analyses.
He is highly experienced in all aspects of Property Loss Damage Assessment, which includes management of Large Complex projects, directing Response teams for catastrophe related
assignments that have involved hurricanes, tornadoes, earthquake, wildfires and subsequent mudslides. He oversees our Clerk of the Work services, consults on appropriate methods of fire and smoke damage restoration, structural drying, and mold remediation for insurance Property Loss and Liability claims. He is also an experienced Appraiser in appraisal proceedings.
In his previous role as Regional Manager of the MKA Los Angeles Office, he contributed to building a presence for the property loss aspects of our services in Southern California and
neighboring states. He also served as the Restoration Resource Lead for over 10 years and managed large loss assignments domestic and abroad.
Prior to joining MKA Mr. Corona acted as liaison for lending institutions following the Northridge Earthquake, overseeing the reconstruction of numerous earthquake-damaged properties, ensuring compliance with all applicable codes and regulations, engineering drawings, and customer specification. Additional construction experience came from commercial and residential in various roles.