MKA International, Inc. (MKA) HAS YOU COVERED – COVID-19 Update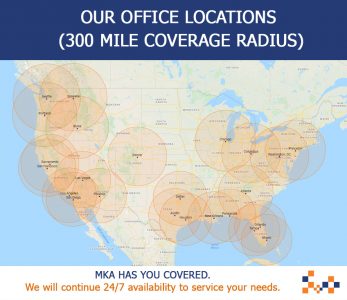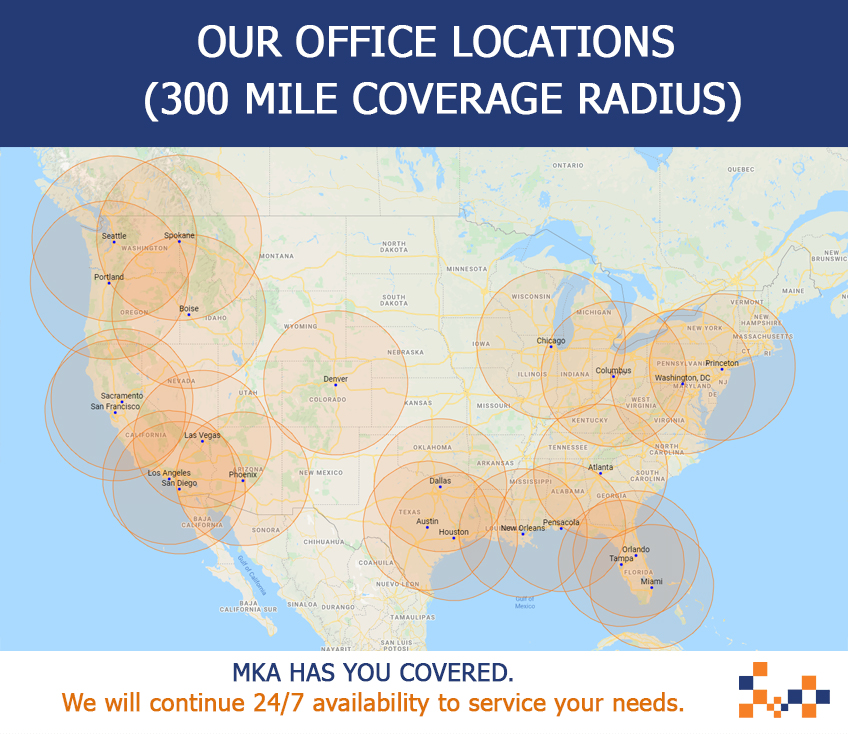 In response to recent events, I want to assure you that myself and the Board of Directors are closely monitoring the evolving situation relating to Coronavirus (COVID-19) and are taking all possible measures to protect the health and safety of our Employees and Clients. We are reviewing federal government regulations as well as recommendations and resources at state and local levels on a regular basis.
For more than 30 plus years, our Clients have trusted MKA's experience, resources and professional talent. We have responded to major catastrophic events and have the ability to scale our services to provide the best response accordingly. We understand the COVID-19 situation is rapidly evolving, guidance will be continually evaluated as conditions warrant and know we continue to invest in our capabilities, equipment and support to respond in real-time to ensure our Clients are being supported and critical deadlines are met.
Our 23 physical office locations are in proximity of almost every major metropolitan region and have the ability to continue service to our Clients even if air travel is severely curtailed.
 MKA recognizes this health situation has already been disruptive to many businesses worldwide. 
Our doors remain open and we will continue 24/7 availability to service your needs.
 We have instituted all the best practices that have been published to minimize the risk to our Employees and the Community and we are committed to providing continued excellent service to Clients.
On behalf of the Board of Directors, we are committed to keeping the lines of communication open as we navigate through this situation to answer any questions or concerns regarding our efforts and services. Please do not hesitate to reach out to any of us on the 
Board
, or any of our 
Regional Managers
 of our offices.
Best Regards,
Jozef H. Kneppers, CPE, FCIOB, CCM
President