Michelle J. Robbins, AIA, NCARB to Speak at Perrin Conference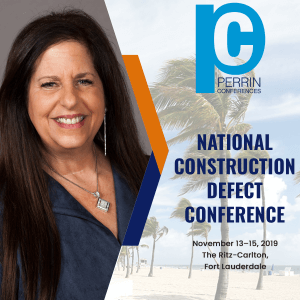 Michelle J. Robbins will be speaking at Perrin's upcoming annual National Construction Defect Conference, November 13 –15, 2019 at the Ritz-Carlton in Fort Lauderdale, Florida. Michelle's session entitled, The Growing Trend of Women in the Construction Industry will include a panel of speakers from across the United States.
Michelle is an Executive Manager at Madsen, Kneppers & Associates, Inc. (MKA) with over thirty-five years in the construction industry and is both a licensed General Contractor and Architect. She has developed a solid presence in the Construction Defect Litigation industry and has provided both classes at higher education facilities as an Adjunct Professor as well as Continuing Legal Education (CLE) in the states of Arizona, Florida and Nevada on topics that involve Code, Building Envelope and other Design aspects.