MKA Diamond Sponsor of the Combined Claims Conference 2022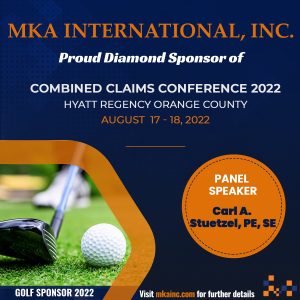 MKA International, Inc. will be a Diamond sponsor of the Combined Claims Conference (CCC) to be held at Hyatt Regency Orange County August 17th and August 18th, 2022. This is a two-day program offering continuing education for CPCU, RPA, MCLE, and the California and Texas Departments of Insurance for independent adjusters, attorneys, investigators and brokers.
The conference will include multiple educational tracks. MKA's Carl A. Stuetzel, PE, SE will be a panel speaker for the event.