We've Moved – MKA Austin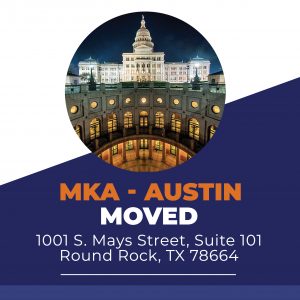 The Austin office has recently moved to a new location. The office is managed by Charles Jendrusch. Mr. Jendrusch is an experienced Mechanical Consultant with 30-plus years of experience in the HVAC-R and Construction Industries.
The MKA Austin staff provides services for projects throughout the South and supports our various MKA offices throughout the United States providing support for our Catastrophe Response teams evaluating damage caused by hail, flood, tornadoes and hurricanes. Austin's staff are available to assist on First-Party Property Damage Claims, Large/Complex Losses, Builder's Risk as well as Liability and Construction Defects claims. Building Consulting services include Loss Assessments, Clerk of the Works and Remediation Monitoring, Comparative Scope Analysis, Cost Estimating as well as Appraisal services.
Please make a note of our new office location:
Madsen, Kneppers & Associates, Inc.
1001 S. Mays Street
Round Rock, TX 78664
[ T ] 512.649.9996  :: [ F ] 972.387.0616