We've Moved – MKA Pensacola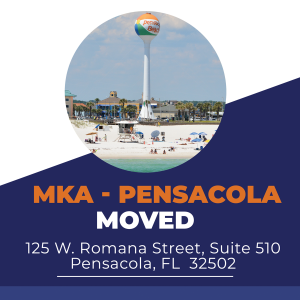 Over the past 15-plus years, our Pensacola office has been providing Professional Property Loss, Catastrophe Response and Construction Defect consulting services. As a result of attracting and hiring top Construction Consultants to our team, expanding and diversifying our services, and remaining committed to providing excellent Client service, we have outgrown our office space and have relocated.
The Pensacola office is managed by Michael Buist. He has 20-plus years of experience in the Construction industry with a broad practical and comprehensive background associated with damage assessment, investigation, and analysis of structural components/systems.
As with our other MKA locations, this office is fully-staffed with General Construction, Cost Estimating and Engineering Capabilities. Our experienced team also includes Certified Fire Forensic Consultants who provide extensive Fire Analysis, assisting our Clients with Fire and Explosion Incidents for Origin and Cause as well as providing support through the litigation process for both civil and criminal cases.
The MKA Pensacola staff provides Building Consulting services for projects throughout the Gulf Coast Region, supports our various MKA offices throughout the United States and is involved in projects worldwide.
Please make a note of our new office location:
Madsen, Kneppers & Associates, Inc.
125 W. Romana Street, Suite 510
Pensacola, FL 32502
[ T ] 850.478.8399  :: [ F ] 850.494.2804