We've Moved – MKA San Diego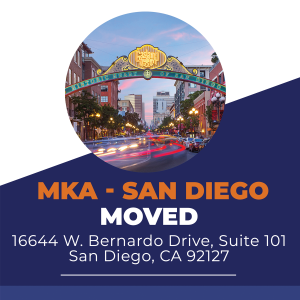 The San Diego office has been providing Professional Property Loss and Construction Defect Consulting services since 1991. As a part of our growth, the office has recently expanded to increase and diversify our local expertise in the Southern California region and has relocated into a new space. Our in-house Forensic Experts and Construction Consultants provide seamless support and specialized services to a wide variety of Clients.
The office is managed by Nathan Ash, PG, CEG. He is an experienced Professional Geologist and Certified Engineering Geologist in California and has served as an Expert in the fields of Engineering Geology, Geotechnical Design, Environmental Consulting, and Civil/Geotechnical Forensic Engineering for Property Loss and Construction Defect Litigation support.
The MKA San Diego staff provides Forensic Expert and Building Consulting services for projects throughout Southern California, supports our various MKA offices throughout the United States and are involved in projects worldwide.
Representative projects include:
Developer and General Contractor Defense, Construction Defect Litigation, Residential Subdivisions to High-Rise Condominiums, Western United States
Differing Site Conditions Litigation, Retail Center, Southern California
Builder's Risk Claim, Rail Bridge, Southern California
Retaining Wall Failure, Property Loss, Transportation Corridor Project, Los Angeles County, California
Construction Damage Litigation, Municipal Theatre, Southern Louisiana
Gas Plant Explosion, Industrial Facility, Texas
Rocket Failure, Launch Facility, Western United States
Flood Damage, Manufacturing Complex, Thailand
Please make a note of our new office location:
Madsen, Kneppers & Associates, Inc.
16644 W. Bernardo Drive, Suite 101
San Diego, CA 92127
[ T ] 858.597.0383 :: [ F ] 858.597.0387